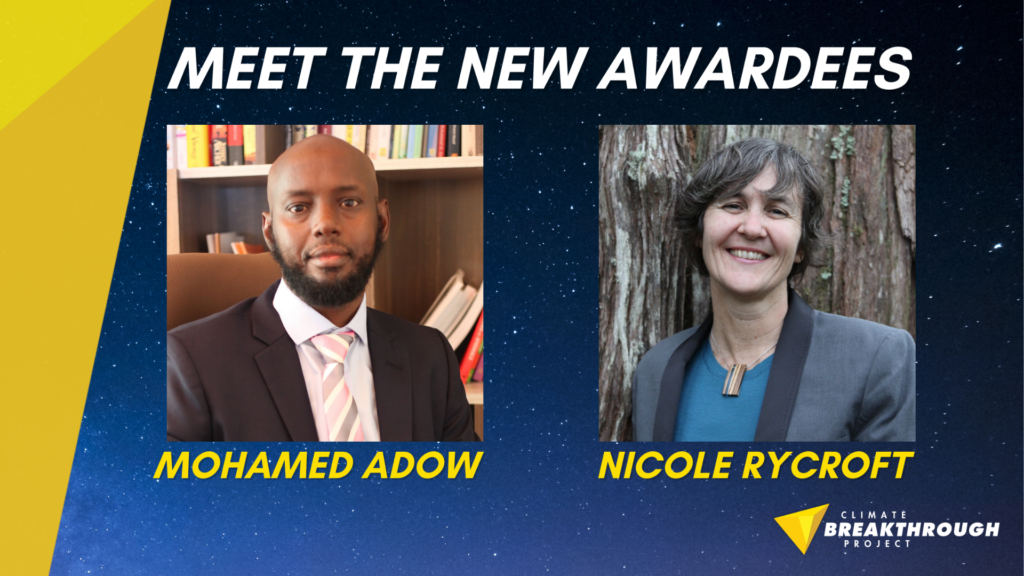 While the new year has offered some promising climate news, it can still feel difficult to find cause for optimism. Scientists have declared 2020 tied with 2016 as one of the hottest years in recent history. Global action on climate change remains scattered and insufficient.
In this moment of incredible challenge, we need breakthroughs. We need leadership, creativity, and visionary new ways to take control of the future in a timeframe that matters. It is out of this resounding imperative that Climate Breakthrough is thrilled to announce two new awardees: Mohamed Adow and Nicole Rycroft.
The Climate Breakthrough Award is given to extraordinary strategists like Mohamed and Nicole to afford them the time, space, and resources to develop and implement bold new strategies to confront and mitigate the growing climate crisis. Over the next three years, Mohamed and Nicole will each receive a $3 million dollar grant and tailored support from Climate Breakthrough to bring their new strategies from idea to fruition.
Mohamed Adow, based in Kenya, is an international climate policy expert and ardent advocate for the people of developing nations—who are disproportionately affected by climate change but play almost no role in causing it. Mohamed's experience on the frontlines of the climate crisis anchors his work as a voice for those most vulnerable to climate change.
In 2018, he founded and became the Director of Power Shift Africa, a think tank mobilizing climate action in Africa and shifting climate and energy policies to zero carbon. Before launching Power Shift Africa, Mohamed spent a decade at the intersection of international development and climate as the Global Climate Policy Lead for Christian Aid.
Nicole Rycroft, based in Canada, is an accomplished environmental activist, an Ashoka Fellow, and the Founder and Executive Director of Canopy. She has successfully engaged many of the world's leading fashion, publishing, and consumer brands to pressure fiber producers to stop sourcing from old-growth and high carbon forests.
Her work led to the final installment of the Harry Potter series being printed on eco-paper in more than 25 countries, and has shifted more than half of global viscose production out of endangered forests in just a few years. Beyond her stellar track record, she has an unshakable focus on achieving what's ecologically necessary, breaking through conventions of what is deemed "reasonable."
Mohamed and Nicole join a cohort of nine other awardees, hailing from Australia, China, Canada, Argentina, Vietnam, Indonesia, the United Kingdom, and the United States. Together, this international community of strategists comprises some of the brightest and most creative minds in climate policy, law, finance, forestry, energy, and behavior change.
Climate Breakthrough searches for exceptional leaders capable of pursuing strategies that would affect entire industries or countries and materially change the lives of millions of people. Mohamed and Nicole have the drive and the rare ability to make change at this immense scale. We are proud to help bring their visionary new strategies to life.