DECEMBER 7, 2021
Climate Breakthrough is thrilled to announce the recipients of the 2021 Climate Breakthrough Award, the largest environmental award. Every year, the award is given to changemakers and leaders with bold ideas that could quickly and dramatically reduce greenhouse gas emissions and fight climate change.
The 2021 Climate Breakthrough Awardees are: Denise Fairchild of the United States, Sara Jane Ahmed of the Philippines and Bangladesh, and Kathrin Gutmann of Germany.
Each awardee will receive three million US dollars to design and scale their breakthrough climate strategy, the largest environmental award of its kind. The awardees, who for the first time are all women, were selected due to their tenacity, ambition, and incredible track records.
At the end of a tumultuous year, where progress in addressing climate change has been all too slow, we are excited to jump-start their game-changing efforts.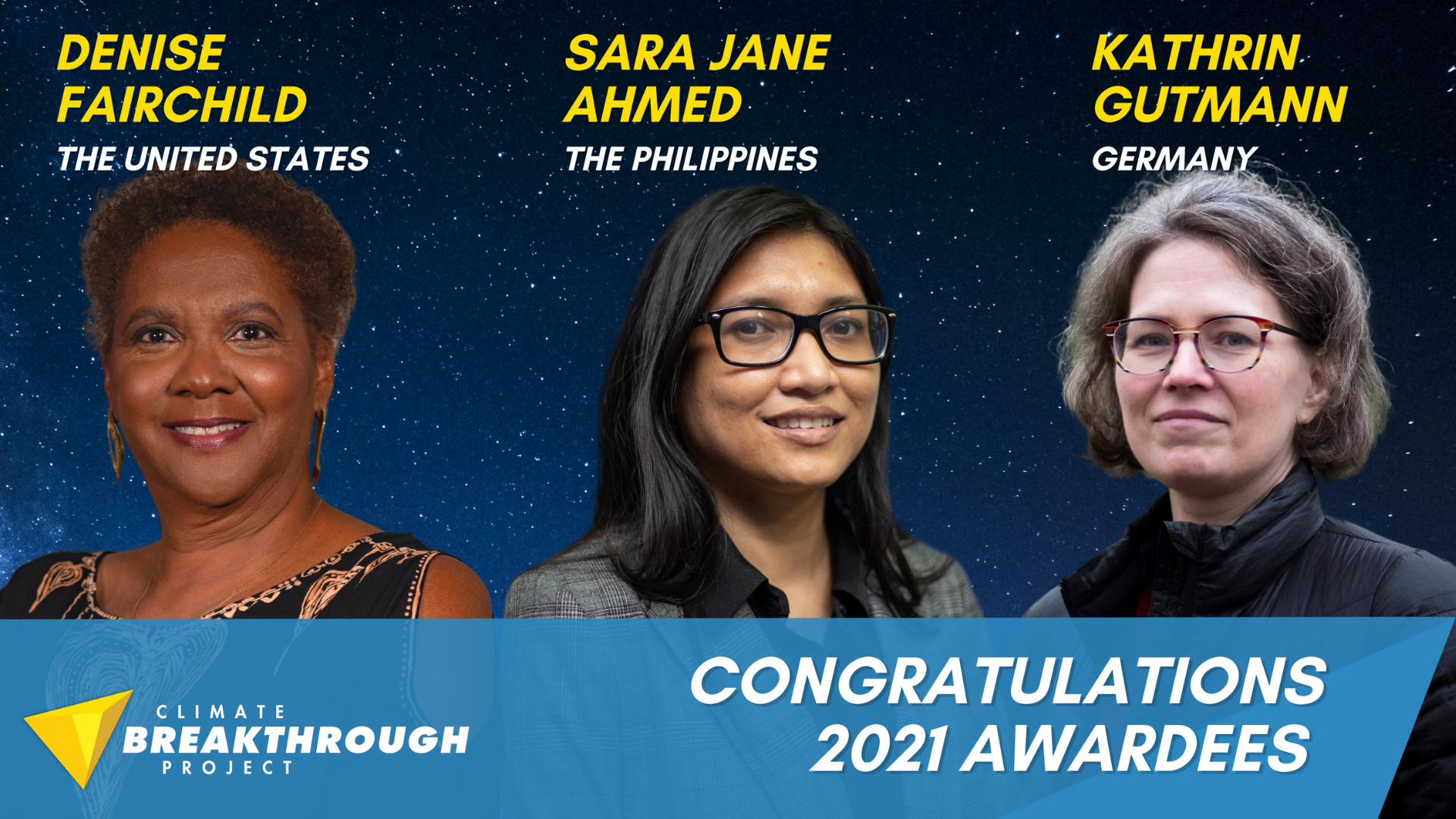 Denise Fairchild is a veteran leader in environmental justice who will use her award to dive into efforts to dismantle the root causes of climate change. She has spent her career leading campaigns and building alliances in environmental justice and community development work, most recently as President and CEO of Emerald Cities Collaborative, a network of key US nonprofits coalescing to advance sustainable development projects nationwide. new awardees join 11 others whose transformational work, supported by the Climate Breakthrough Project, has achieved critical recognition from their peers and the press and has brought about innovation in climate change mitigation.
Sara Jane Ahmed is a renowned strategist in finance who seeks to develop resilience and investment opportunities in climate vulnerable nations. She is founder of the Financial Futures Center and currently also serves as Finance Advisor to the Ministers of Finance from 55 of the world's most climate vulnerable countries or the Vulnerable Twenty (V20) Group. She has been credited with a number of wins including a recent government-sanctioned moratorium on new coal-fired power in her home country of the Philippines.
Kathrin Gutmann is a seasoned campaigner who plans to take Europe towards a future powered by 100 percent renewable energy. She is currently the Campaign Director of the Europe Beyond Coal Campaign—a network of NGOs working to move the continent beyond that fossil fuel by 2030. Under her leadership, the Europe Beyond Coal Campaign has spurred the retirement or planned retirement of 166 coal plants and coal exit plans in 21 countries across Europe.
The new Climate Breakthrough Awardees join others who have used their funding to pursue bold climate action. Previous awardees include John Hepburn, whose Insure Our Future campaign has led to a rapid global movement to stop insurance companies from underwriting and financing coal projects, Tzeporah Berman who launched the acclaimed Fossil Fuel Non-Proliferation Treaty initiative and Tessa Khan, of Uplift and previously the Climate Litigation Network.